Intrapreneurships foster autonomy and independence, while attempting to find the best resolution for an organization.
Intrapreneurships happen when a company or corporate faces the challenges of change, the pressure of growth or the push on innovation initiatives.
This course focuses on intrapreneurial leadership based on the concept from captain of spaceship earth considered as a leadership method that is most successful for intrapreneurship process and development.
Course Objectives
Prepare leaders for the intrapreneurship in the era of innovations
Aware the leaders about organization's culture, structure and talent development essential for building intrapreneur and innovations inside and out.
What will the course cover?
Module 1: The Critical Role of Innovation Leadership for Organization Success
Moving towards intrapreneurship mindset
Resilience and intrapreneurship
Importance of intrapreneurship and innovations for your company
Put innovation projects top of the organization agenda
Intrapreneurship and sustainability
Module 2: Insightful leader interviews on building successful intrapreneurship culture
Creating a leadership vision
Focusing on the future
A vision of resilient future
Resilient leadership development
Supporting intrapreneurs by promoting generous collaboration
Module 3: Leadership to leverage organizational talent
Encouraging autonomy to fuel innovative thinking
Developing proactive behavior in your organization
Intrinsic motivation to empower talent innovations
Building commercial awareness to optimize your talents' competence
Understanding calculated risks and political acumen
Module 4: Building innovative organizational structure
Allocating innovation resources to thrive
Rewarding entrepreneurial spirit and encourage risk-taking and failures
Increasing productivity and innovation by avoiding organizational friction
Senior leaders' role to build innovation culture and organizational freedom
Cooperating with outsider experts to boost innovation out of your current silo
Module 5: Implementing innovation culture for intrapreneurial organization
Boosting innovative thinking and new approaches to problem-solving
Encouraging talents to make decision and take full responsibility
Regularly sharing insights in your company
Allowing, admitting and inspiring calculated risk-taking
Moving forward
Who is your coach?
Raed Almubarak is an Entrepreneurship, Business, and Technology Consultant for SMEs and Government utilities. He has worked with different organizations to develop their business plans and strategies. With Doctoral of Business Administration (DBA) from Columbia Southern University (USA) on Leadership Styles of Internet Generation, and 30 years' experience in Technology and Business in Electricity and Water Authority (EWA) in Bahrain and in Canada, he founded Raed Ideas Consultancy (in Canada) to develop business plans for SMEs. In 2021, he founded ASTRONAR for Consultancy and e-learning (Bahrain). In 2021, he launched his first book in Bahrain "Internet Generation in Arab world". He is a writer in different Bahrain newspapers with topics about business and community. He is a member in Talent Development Associate, Bahrain Small Medium Business Society, and Bahrain Management Society. He is co-founder of United Nations International SMEs Organization (UNISMO). He had certification from Association for Talent Development (ATD) as "New Manager Training Program Developer" and ITIL.
Which teaching method will be applied? 
eClasses
(Online coaching)
eConversations
(Live instructor training)
5 weeks: 25 hours
5 weeks: 10 hours
Our innovation courses are designed based on the learning curve as shown in the chart below: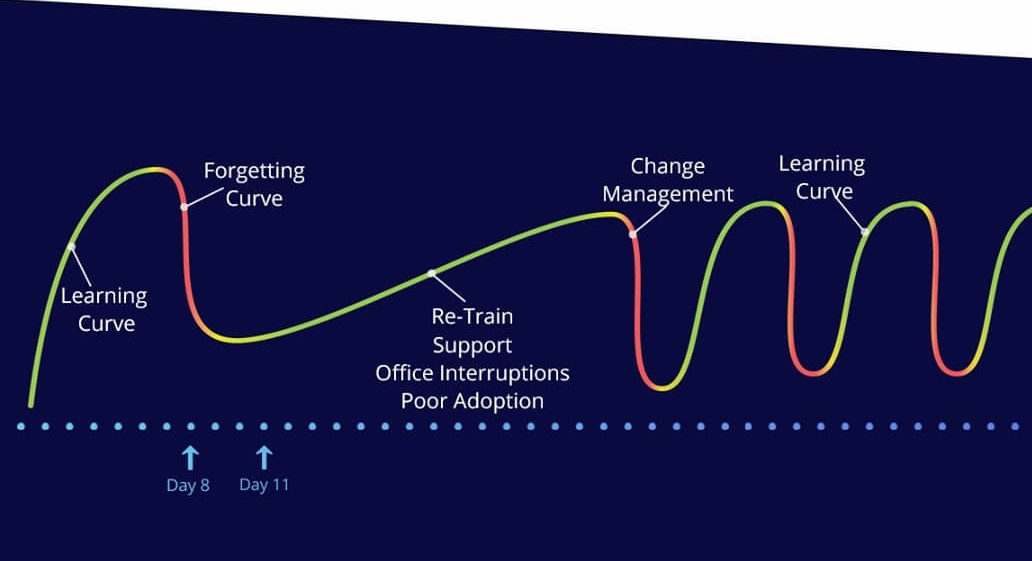 IBI Blended eLearning was designed to achieve a good balance between group learning and real time discussion, self-study and interactive learning, which is conducted by competence based teachers and experts to completely replace classroom training.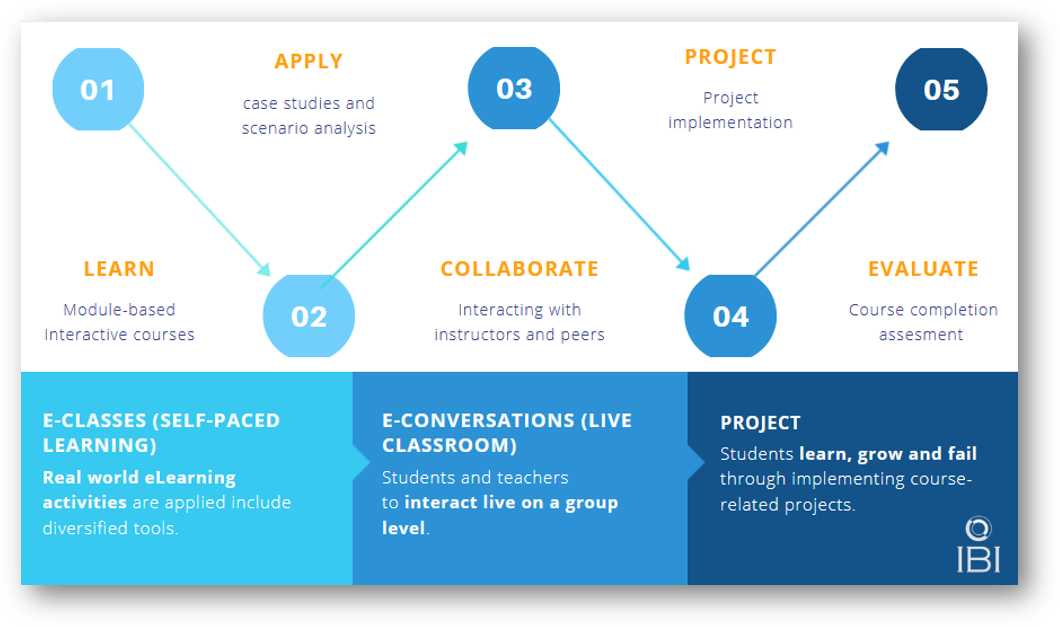 IBI Online Teaching Method | Explanation Video