Employee happiness and wellbeing are often relegated to footnotes in the HR report, "Happiness Index" of employees are a positive work culture that has such immense benefits all round for individuals and organizations, "Employee happiness is an integral function. It depends on the work conditions, motivation and personal problems," said Sergey Parkhomenko. Happiness Index will inevitably lead to an upward trend in profits. In Employee Happiness Index, a monitoring tool that analyses staff feedback in real -time companies with more than average employee happiness indicate financial performance and customer satisfaction. High stress leads to a number of emotional and physiological problems that can result in higher employee absenteeism. Having happy employees means that more of them show up for work, sometimes employees do not work out of any compulsion but because employees dream of taking their organization to a new level. Employees may passionate towards their work and passion comes only when employees are satisfied with their job and organization on the whole. Employee satisfaction leads to a positive ambience at the workplace. Numerous studies demonstrate that people who are happy are successful in a variety of spheres of life, including marriage, friendship, earning potential, productivity at work, and health.
The data comes from BambooHR's database of employee Net Promoter Scores® (eNPS), collected monthly from January 2020 through June 2023—now released publicly for the first time.
BambooHR's findings echo other recent studies. According to Gallup's July 2023 survey, 80% of Americans are dissatisfied with the way things are going in the US.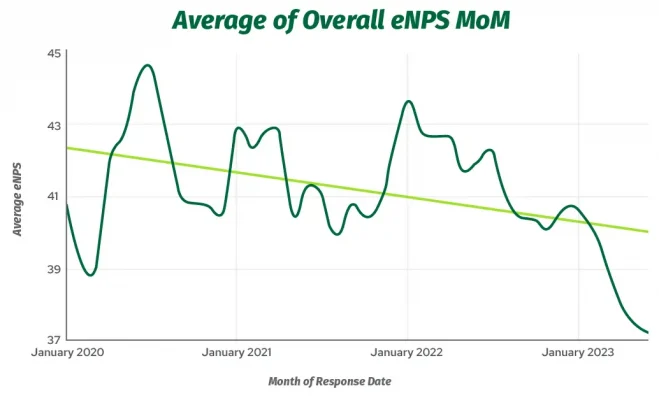 According to a study by the Queen's School of Business and Gallup, disengaged workers logged 37 per cent higher absenteeism, 49 per cent more accidents and 60 per cent more errors and defects than engaged employees. According to the Canada Human Resources Centre, unhappy workers cost the North American business economy over $350 billion per year in lost productivity. Another finding by Gallup is that 82 per cent of managers are miscast in their roles, which is likely one of the key factors for disengagement.
HRDCanada magazine recently reported that despite seven out of 10 employees in North America feel disengaged at work, and just under 35 per cent of employees are planning to switch jobs. This means that only half of disengaged employees are willing to actually do something about it and make a change.
The other half, likely for a host of reasons, prefers to stay put and put up with managers or jobs they don't like. The cost of disengagement to companies is definitely staggering.
The central conclusions are employee is an essential factor for the success of any employees. Happy employees are more productive, engaged and motivated which leads to improve job performance, higher job satisfaction, and increased employee retention. To achieve employee happiness organization should focus on creating a positive work environment offering a fair compensation and benefits, promoting work-life balance, providing opportunities for growth and development and fostering a supportive workplace culture. By prioritizing employee's happiness organizations can create a more productive and fulfilling work environment and that generates the employee's happiness which lead to a better performance.