TOP TRENDS FOR HR TECHNOLOGY IN 2018
Can we build HR software that really improves productivity and helps teams work better together? That's the next challenge.
1) A Massive shift from "automation" to "productivity."
For many years the focus on HR technology was to automate and integrate HR practices. This meant online payroll, record-keeping, learning management, resume capture, interview and hiring, assessment, performance appraisals, compensation, management, resume capture, interview and hiring, assessment, performance appraisals, compensation, etc.
Well all that's important, but it's just "business as usual" now. A wide range of cloud-based HRMS and payroll vendors are now in the market, and you get very little credit for "automating" HR.
But beyond automation, as the High-Impact HR (HIHR) article discusses, the big topic in business today is productivity. We are now working on agile, team-centric organizations, and we are overwhelmed with too much to do. Burnout, focus, and employee engagement are all issues, and we are now dealing with email, messaging from many different systems, and a plethora of communication tools that overwhelm most of us. Can we build HR software that really improves productivity and helps teams work better together? That's the next challenge.
2) Acceleration of HRMS and HCM Cloud Solutions, But Not The Center Of Everything
In the last five years, cloud-based HR has become the rage. I could list more than two dozen highly successful vendors that offer HRMS, payroll, and many talent management services in the cloud. And in most cases they are offering financials and other ERP solutions as well. So the question for most companies is no longer "if" you go to the cloud, but rather "when" and "how."
Well it's harder than it looks. Despite these rapidly maturing solutions, only about 40% of companies today use cloud HCM solutions, and my experience with large companies is that the migration often takes 2-3 years or longer. So we are going to be "moving to the cloud" for a while yet, and the decision of which vendor to select looms large.
While the cloud HR and payroll system is a critical system for any business, it can be replaced. And the more important technology you buy is the talent and team management software. So your architecture looks more like a "set of services" all focused on making employees' lives easier... not a single cloud vendor.
3) Continuous Performance Management Is Here: And You Should Get With It
The answer is now clear: continuous performance management is possible, it works, and it can transform your company. We are not talking about doing away with ratings, rather we are talking about building a new, ongoing process for goal setting, coaching, evaluation, and feedback.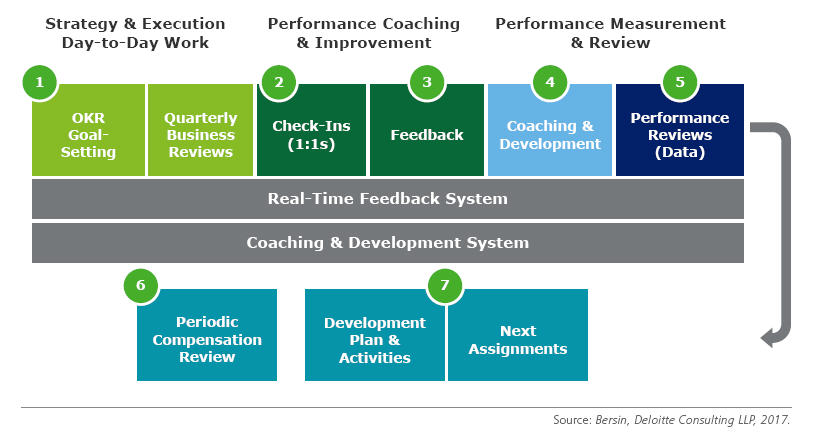 4) Feedback, Engagement, and Analytics Tools Reign
Today it has become a dynamic world of real-time survey systems, sentiment analysis software, organizational network analysis (ONA) tools, and products that actually automatically ask your peers for feedback to give you real-time coaching.
And open feedback tools are growing again, giving employees many new places to comment on the workplace. A new area of growth is the explosion of systems to offer pay transparency and are now crowdsourcing and providing benchmarking tools to help you "find your worth" through open feedback and benchmarking.
AI-based analysis and recommendation systems, and culture assessments throughout the marketplace. You can get this technology from startups, ERP vendors, talent management systems, and embedded in the new performance management systems.
5) Reinvention of Corporate Learning Is Here
A new breed of corporate learning tools has finally arrived, and companies are snapping them up quickly.
These include the "experience platforms," a new breed of "micro-learning platforms," modernized LMS systems, and new AI-based systems to recommend learning, find learning, and deliver learning. Virtual Reality-based learning is now alive and well, and I expect to see smarter and smarter technologies to help us find "just what we need" along the lines of performance support. And you can now buy systems that let employees publish and share content without any major effort on your part.
6) The Recruiting Market Is Thriving With Innovation
Recruitment is the largest marketplace in HR. Companies spend billions each year on recruiting and it has become an escalating war for employment brand, candidates, candidate experience, and strategic sourcing. High volume recruitment (hospitality, services, healthcare, retail) is being automated by chatbots and other new tools; skilled job recruitment is being revolutionized by open sourcing tools, more automated applicant tracking systems (now called recruitment management systems), and better assessments. And video assessment and culture assessment tools have matured so far that everyone can use them.
7) People Analytics Matures And Grows
The marketplace is now rich with embedded solutions (nearly every HCM vendor has embedded analytics, many with prediction engines), and all the new vendors are starting to apply AI to their offerings. While this market has been very long in coming, the growth of cloud platforms is now making it explode, and it's easier than ever to build a manager-level dashboard that helps your teams understand what they can do to make the work experience better.
At the corporate level, the ONA software market is now growing (organizational network analytics) so a new world of "relationship analytics" is taking hold. We can now look at core HRMS data (turnover, tenure, performance rating), relationship data (who you know, who you spend time with, what teams you are part of), wellbeing data (your activity, location, energy, wellbeing), and your sentiment data (feedback, mood, and sense of belonging). All this data is falling into the laps of HR departments and they are now staring to grapple with the issues of ethics, privacy, and becoming more transparent about what analytics they are doing.

Source: Josh Bersin