3 KEY DIFFERENTIATORS THAT MAKE IBI E-LEARNING REPLACE CLASSROOM TRAINING!
IBI eLearning is the school that was built online! We have had years experienced in teaching English for students in different countries before we built IBI eLearning.
IBI is the school that was built online! We have had years experienced in teaching English for students in different countries before we built IBI. Our founders are teachers and educators who understand students' interests inside the classroom as well as their strengths and weaknesses in learning and using English language or aquiring a business skill.

Below are the three reasons that make IBI different:

1. Learning sequence:
Our platform was built to bring of all in class activities into our eLearning programs. The design of this e-learning requires understandings in education, multimedia content, resource publication, and electronic technologies. The sophistication of the task is highlighted by our teams: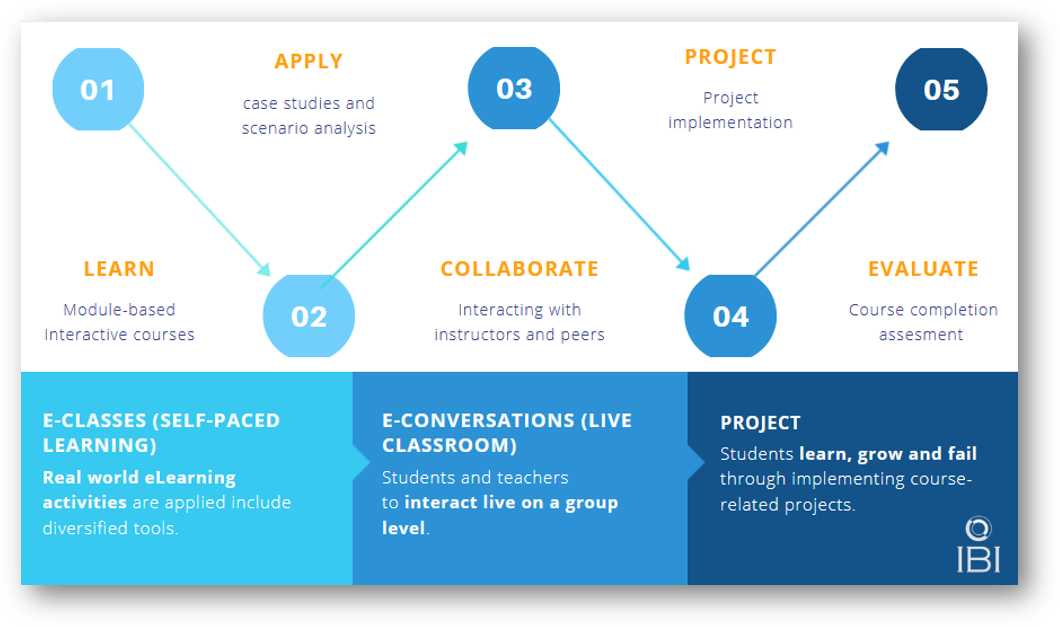 The chart shows a web-enhanced case-based activity in an IBI course with the requirement for the students to go through detailed and diverse procedures which shows the flow of a typical online case-based learning sequence in the course. The online activities were varied: web searching, reading of online resources, quizzes, learning games and group discussions…Many of the eLearning lessons activities are carried out independently integrated in our self-paced learning programs - eClasses but students' performance is closely monitored by the teacher and contributed to course grades.
The activity sequence in Learning Activities Management System (LAMS) allowed the activities to become more structured in the following manner. The course is structured into different modules and lessons so that students learn them in order together with working with the suggested online resources and the links to the resources were placed in the LAMS sequence.
Students learn and finish each lesson and when they feel that they are fully learned, they click the 'next' button to go to the next lesson and then the mini test when they have finished a whole module for the progressing analytics and evaluation. The students learn through the case materials, quizzes on comprehension and the associated questions…then they can submit their questions and exercises to the instructor who will receive students' answers and exercises also through the same system.
The topics of the module will be further discussed in the live classroom training - eConversations, with various answers being compared and contrasted. Students then rethink about their own solutions. A learning project will be assigned after that for them to work in group to really comprehend and absorb the knowledge and skills.
2. Automated Procedures
The chart below show how a student enroll and take the course. Especially, our eConversations (live instructor training) was uniquely designed just like what it is at a physical school where student can choose their schedule and enter the class independently then interact with their teachers and peers in a small class of 6 students.
3. Students to teachers and students to students interaction
Our LAMS and eConversations help maximize students to teachers and students to students interactions which bring greatly benefits to students in enhancing their learning engagement and promote their academic performance.